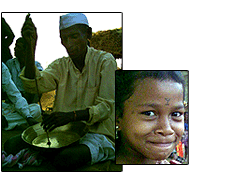 An appeal to save the Katkaris : A Primitive Forest Tribe from Maharashtra, India
The Katkari tribal group is teetering on the brink of extinction. The Katkari community, a primitive forest tribe based mostly in Raigad and Thane Districts of Maharashtra, lives in abject poverty. Even in 2003 they continue to work as bonded labour for their "sheth" (master). Their exploitation by non-tribals is total and absolute. They have been converted into a cheap and bonded labour force by their fellow human beings. The police department harasses them at will and treats them like a "criminal tribe". While the Indian Government would deny the presence of slavery, the Katkaris are slaves and much more. All development programmes, Government or Non-Government, bypass the Katkaris.
The life expectancy of Katkaris has reduced in recent years and the Katkaris, as a tribe, may be on their way out, unless urgent efforts are made to reverse the trend. While animals, plants, insects and even microbes attract a lot of attention (and resources) for conservation and rehabilitation, nobody seems to be bothered about the unique and unusual Katkaris.
An attempt is made here (it is unfortunate that this had to take on a "project" form) to issue an appeal to the international community to save the Katkari tribe from extinction.
Academy of Development Science (ADS), in collaboration with NGOs and individuals in Raigad and Thane District, is striving to address basic survival issues facing the community. The process will hopefully emancipate Katkaris from slavery and bring about improvements in their socio-economic status.